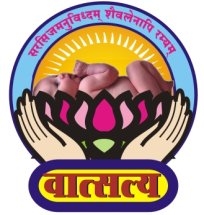 Focused on the Vision, Vatsalya Trust Mumbai, creates lasting solutions to improve quality of life for destitute and deprived of all ages, race, caste, religion and gender. We provide comprehensive services for Adoption, Orphanage, Old Age Home, Care of destitute girls, thus live up to the name "Vatsalya", a Sanskrit word meaning affection.
Vatsalya Trust Mumbai was founded on 8th February 1983, registered as a Public Charitable Trust under Bombay Public Trust Act,1950. The founders were Smt. Sanjivani Raykar, Late Shri. G.A Damle, Late Dr. Shivram Athavale, Shri. Nijasure along with a few other philanthropists, who felt a need for starting a charitable organization dedicated to the care and rehabilitation of orphan, abandoned, destitute children.
Often we receive newborn within hours of delivery from Maternity Homes and we also receive infants, abandoned in public places like temples / garbage bins / railway platforms and so on brought to us by Police Department. We are recognized by Central Adoption & Resource Agency (CARA) which primarily deals with the adoption of orphan, abandoned and surrendered children through its associated /recognized adoption agencies.
Around 1200 children have found their adoptive homes through the efforts of Vatsalya Trust. 1201st infant boy was adopted on 8th Jan, 2021 by a couple from Tamilnadu. We have long term relations with our adoptive families and the adopted children, who now, are our Volunteers, Donors. We are FCRA registered and proudly state that India Development and Relief Fund, Inc. (IDRF) is appreciative of the exemplary work done by Vatsalya Trust Mumbai. We are proud of the Gold Certification by Guidestar India and ISO 9001 :2015 certification by TUV Austria.
Currently, Vatsalya Trust Mumbai has projects located in Maharashtra State at Kanjurmarg, Sanpada, Alibag and Badlapur. For reaching out to remote tribal beneficiaries we also associate with local NGOs, for instance, with Mauli Shikshan Sanstha, Valwanda, Palghar for Patient Assistant Programme. We have reached out the tribal youth with our Drive with Pride programe at Jawhar, Dist. Palghar and at Taloda, Dist. Nandurbar in partnership with Shabari Seva Samiti; at Uttan, Talasari, Dist. Palghar with Sneha Samaj and at Mokhada, Dist. Palghar with Parivartan Mahila Sanstha.
Vatsalya Trust Mumbai has thus grown from the tender sapling planted in 1983 to a big tree, spreading its branches in space and activities, standing on the roots of the core values : Love, Affection and Care.
Vision:
"To create lasting solutions to improve quality of life for destitute and deprived of all ages, race, caste, religion and gender"
Mission:
Help the destitute and deprived under our care to get the right to survival, protection, development and participation in societal development. Eventually, help them earn dignity and self-respect in the society.
"Love, Affection and Care"
Board Of Trustees
Managing Committee Members

Dr Vilas Ainapure
( President )
Shri Shrikant Joshi
( Secretary )
Shri. Janardan Kadhe
( Treasurer )
Shri Shrikishna Desai
Adv. Prasad Gaonkar
Shri. Janardan Kadhe
Smt. Usha Barve
Shri. Raman S. Srinivasa
Shri. Nagnath Saraf
Shri. Ramchandra Vaidya

Smt. Anjali Gadre
( Chairperson )
Shri Shrikant Joshi
( Secretary )
Shri. Janardan Kadhe
( Treasurer )
Dr. Sanjay Bhagwat
Smt. Sandhya Dhakras
Smt. Shobha Joshi
Shri. Vidyadhar Sathe
Shri. Vishwas Vaidya
Shri. Girish Kulkarni
Shri. Dilip Abhyankar