NELSON MANDELA REMEMBRANCE DAY
To remember South African idol's contribution to negotiate an end to apartheid, July 18 is celebrated as Nelson Mandela International Day. It was on this day that South Africa's first black and democratically elected President was born in Transkei, South Africa in 1918.
Mandela receiving the highest civilian award of India – The Bharat Ratna in 1990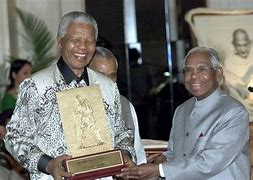 To commemorate this occasion with a meaningful contribution to the society, the South African consulate members of Mumbai led by the Consul General – Ms. Andrea Kuhn along with her staff members visited Vatsalya Trust on 18th July 2022 wherein they conducted a cleanliness drive for 67 minutes marking the public life of 67 years by Nelson Mandela echoing his faith in cleanliness as a virtue.
Vatslaya Trust, Mumbai takes immense pride in welcoming the consulate team on this occasion and selecting our NGO as one of the best in the development sector for impacting lives of the deprived population of the country.
Finally, the South African tallest leader – Mr. Nelson Mandela resonates with the phrase "Ubuntu". Ubuntu is a South African concept meaning "I am because you are." It embraces the idea that humans cannot exist in isolation. We depend on connection, community, and caring — simply, we cannot be without each other.
The presence and contribution of the South African consulate members on 18th July 2022 at Vatsalya Trust Mumbai in itself was a strengthening of ties between the two nations and we envision further growth of this bonding in the future.