'Patient Assistant Programme' (PAP): Skill Development to Self-Reliance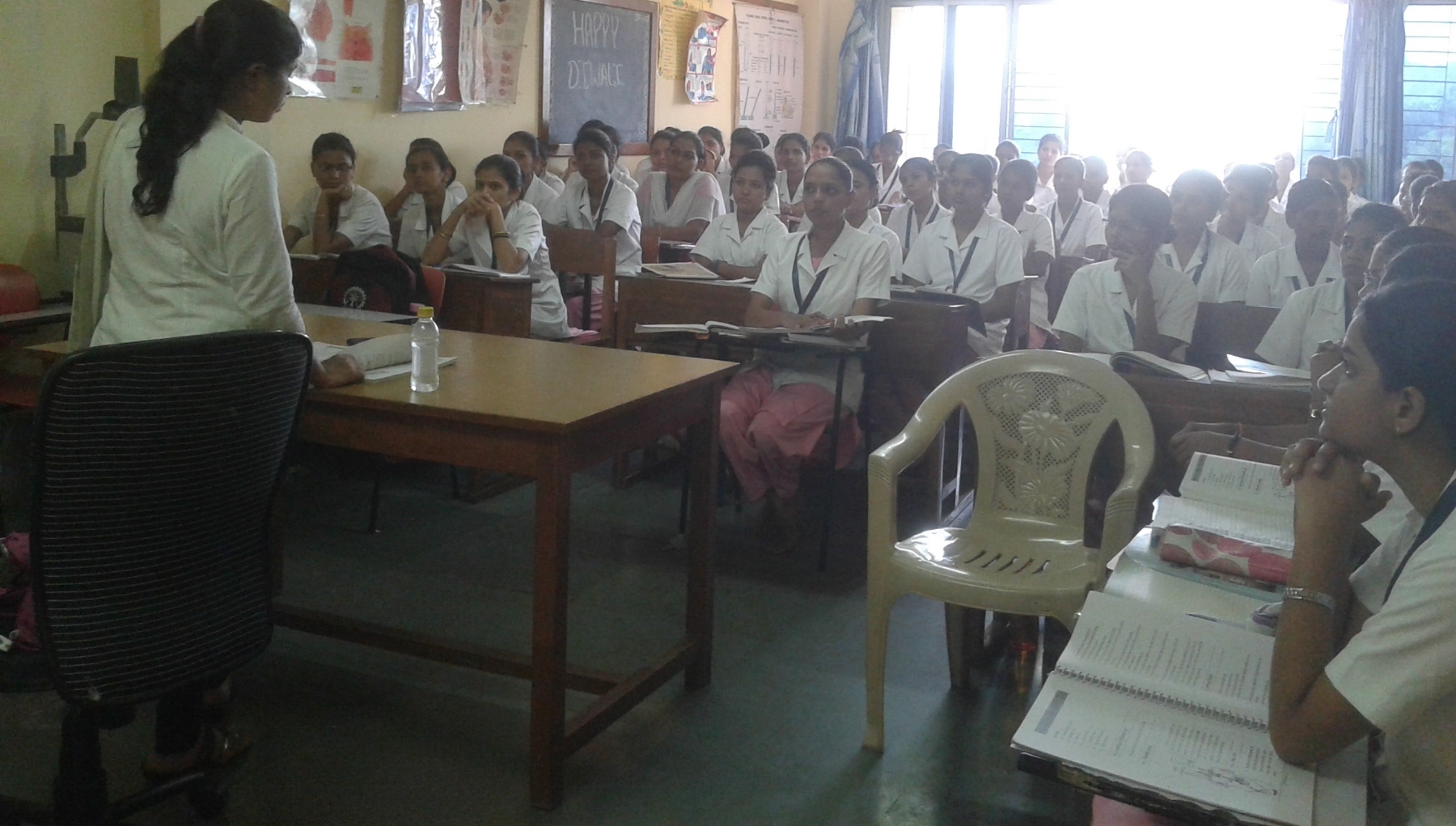 One-year course affiliated to Yashwantrao Chavan Maharashtra Open University (YCMOU) for SSC passed girls including Internship at reputed Hospitals ensuring employability. Residential facility provided for students from Tribal remote villages.
Introduction:
This programme aims at empowering women by imparting employable skills to them so that they can live life of dignity, self-respect and independence.
In the year 2005, Vatsalya Trust devised with the assistance and guidance of doctors / nursing tutors one year course (Patient Assistant Course) for girls who secured marginal marks in Secondary School Examination and could not therefore secure admission to college or those girls whose parents could not afford to spend for further education of their girls because of poverty.
Initially we, on our own, conducted three batches of girl students who immediately secured jobs in famous Hospitals. The students were trained in Anatomy by Doctors / Nursing Tutors for about four months followed by intensive practical training in Hospitals. Yashwantrao Chavan Open University, Maharashtra located at Nashik took cognizance of the fact that the girls, after this training, get good jobs took initiative to introduce a similar course under their aegis and our Trust then became a center of YCMOU for Patient Assistant Course.
One more notable feature, of the course is that in each batch we take about 25 girls from tribal areas of Maharashtra. These areas are not easily accessible and they are starved of basic medical facilities. The entire expense of these girls on account of stay, food, clothing, education, medical assistance is being met by our Trust. In turn, we persuade them to go back to their villages, rural settings and work with the Public Health centers / Community clinics to serve local people thereby improving their health and hygiene conditions.
Programme Features:
Course designed for those girls who cannot pursue education beyond 10th std/ 12th Std, due to economic, social & family reasons.
One year Course Affiliated to Yashwantrao Chavan Maharashtra Open University (YCMOU) since 2006
In-house Theory classes by Expert faculties (Doctors/nurses).
Practical and Internship at reputed Hospitals
100% Placement at renowned Hospitals /Clinics / Health Centres.
About 1000 girls trained through above program are now independent, self- reliant and great support to their families.
PROJECT IMPLEMENTATION:
1. Sourcing & Registration (May – July)
a. Vatsalya engages in community mobilisation, awareness talks and sources Unemployed/ Underemployed Women /girls for training at its skilling development Centre. The eligibility criteria would be- Minimum 12th 8th pass, lower economic background and candidates in need of job.
b. Counselling & Registration of candidates to be trained is done
2. Classroom Training ( August – November)
Classroom training will be provided
a. To understand the various work place skills involved.
b. Explanation of standards and their significance.
c. Theoretical inputs ( Basic Anatomy) for technical know-how.
Delivery of content will be done through visual aids like presentations/ videos/ learning cards to enable easy understanding for the target group.
3. Practical Training in Hospitals ( December – February)
a. The trainer will use diverse training aids to facilitate the required learning outcome. Training aids range from hands-on demonstration to presentation using learning cards.
b. The training is facilitated in vernacular in order to ensure effective dissemination.
c. Trainers will conduct practical sessions with equipment to give the learners hands on experience. Students rotated in all departments in hospitals OPD / ICU/ NICU etc.
d. On the Job internship will be provided to candidates to get hand on experience.
4. Examination & Certification & Placement assistance ( March- May)
a. Assessment will be done through YCMOU.
b. Placement assistance will be provided to all certified candidates. All possible Efforts will be made to reach 100% placement. At least 75% of the certified students have to be placed.
c. This will affect the real income of the family.
Project review / Sustainability:
Social & economic empowerment of adolescents & young women from disadvantaged communities in the age group of 16-35 years is achieved by providing them combination of life skills, literacy, & vocational skills training. It enables them to take up wage or self employment and become a contributing member to society.
Programme establishes linkages within the stakeholders like the Hospitals /Corporate/ Training institutes/ NGOs and the youth. It also ensures sustainability aspect through placements. Programme aims at Holistic development of trainees, thus making them employable individuals beaming with confidence and self respect. Thus, programme provides win-win situation for both i.e. employer (Health Care Industry) and employee (Socially / economically deprive Youth/women)
Future Plans:
Vatsalya Trust conducts Patient Assistance Programme at Kanjurmarg (Mumbai) and Sanpada (Navi Mumbai) thereby training 100 girls every year. In order to spread health and hygiene awareness in remote parts of our country it has been decided that Trust will handhold local NGOs in developing and implementing Patience Assistant Programme.
Hence, during year 2019, in collaboration with local NGO in Palghar District, Vatsalya Trust started Patient Assistant Programme. About 30 girls from rural/ tribal district are registered under the course. In future we intend to extend of our reach to Vidharbha, Marathwada and Eastern Maharashtra region.