Digital Literacy for Underprivileged
Total Views |
Digital Literacy for Underprivileged: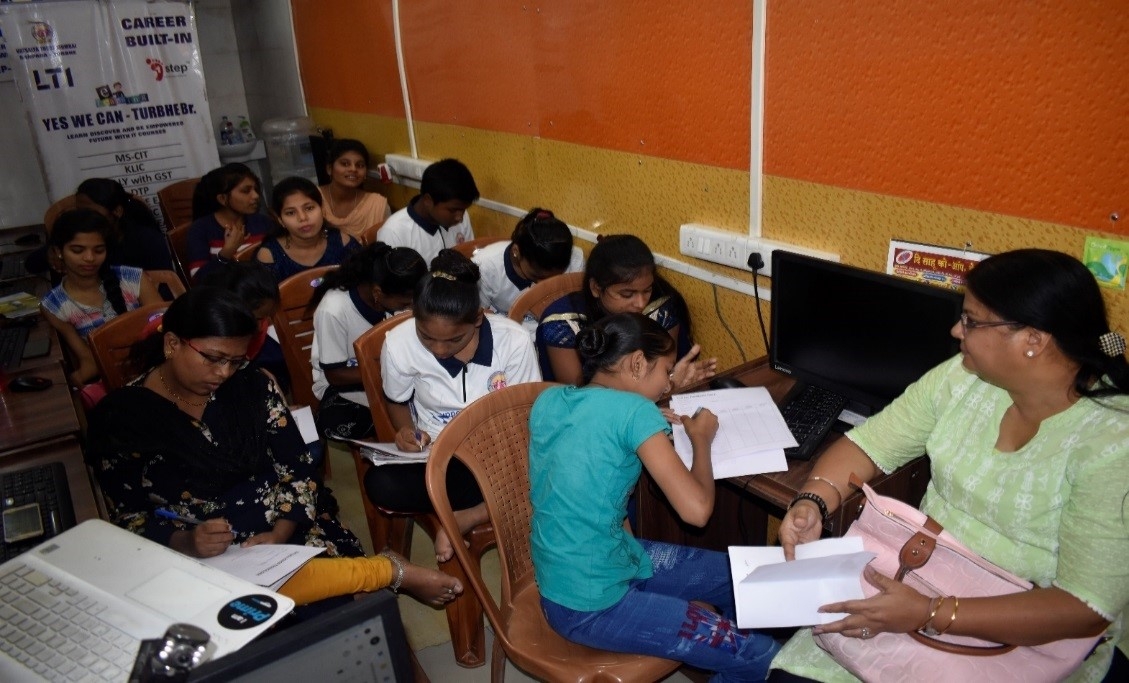 In the present age computer proficiency is an essential prerequisite for employment. However the fees charged by private coaching classes are exorbitant and unaffordable to the job seeker from the economically weaker section of our society. Hence, in order to take digital knowledge within the reach of the needy, Vatsalya Trust started Computer Training centres at Kanjurmarg and Sanpada in the year 2006 with support of Inner Wheel Club.
Computer courses like MS-Office, DTP, Tally, introduction to internet etc. are offered to disadvantaged youth with a view enhance their employability.
The centres had a modest reach for almost a decade. However, the support by L&T Infotech (LTI) escalated our efforts into the next higher orbit by training about 1000 students every year.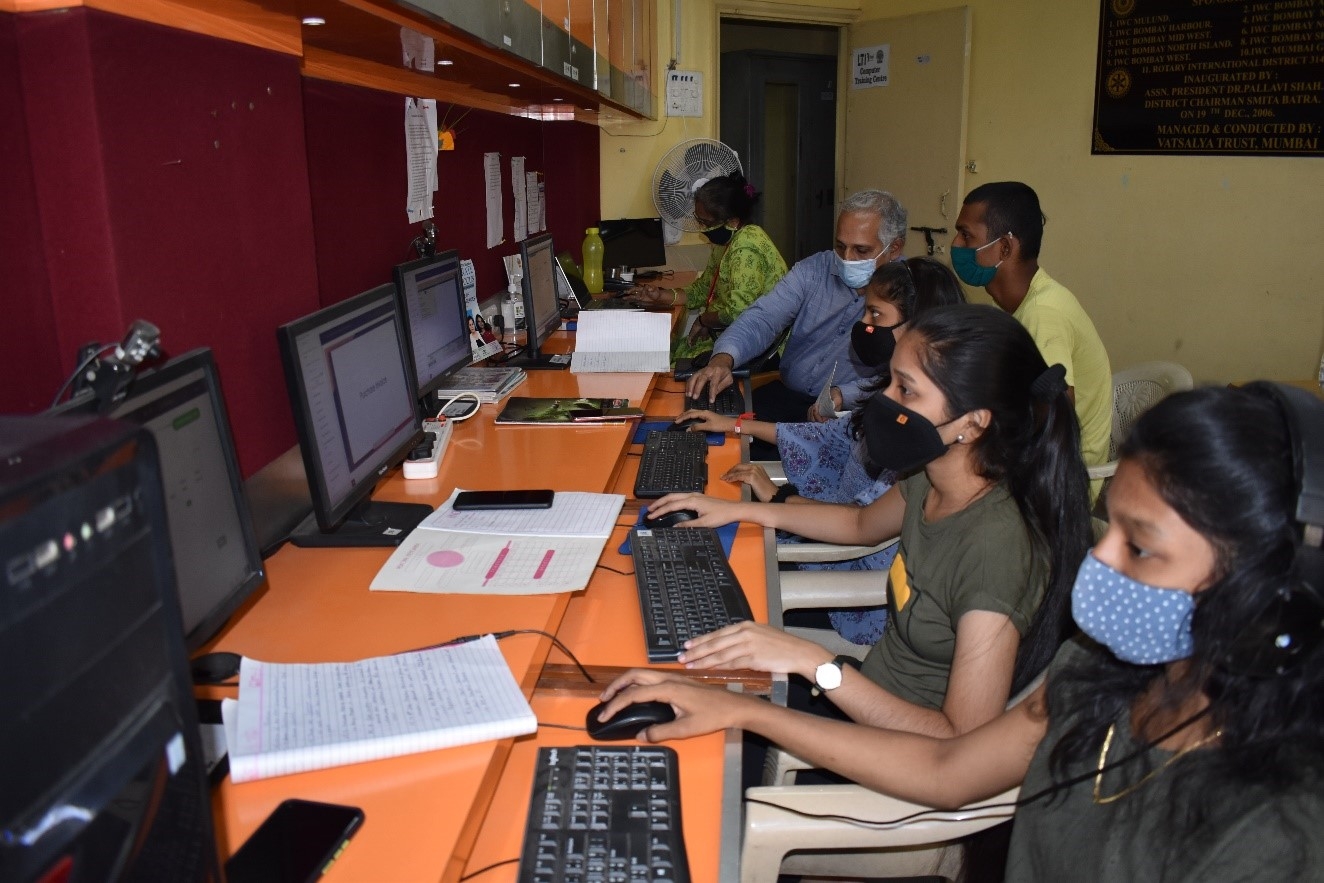 Digital Literacy Programme Features:
The centres are recognized by MKCL Maharashtra Knowledge Corporation Ltd. as Authorised Learning Centres (ALC).
Basic MSCIT course and domain specific KLiC courses in Advanced Tally with GST, Advanced Excel, DTP, C++, Scratch programming, are run by the centres.
Satellite centres created to reach out needy at their door step in Bhandup and Turbhe. Our efforts reached not only economically weaker youth but also socially reserved children of sex workers, third gender persons.
Campaigns were made to reach out special groups such as women from poor background, housekeeping personnel in LTI, Police and special need children to spread literacy in computer domain.
Reaching out to the needy has been effective through a network of NGOs working towards the upliftment of poor. Some of these are Jeevan Jyoti Kanjur, Nirmal Jyoth Foundation, Prerna Trust Kharghar, Asra &Arambh Nerul, Vinimay Trust Vashi.
Volunteering programme also adds great value in improving job skills and computer domain knowledge of all beneficiaries.
Soft skills in different domains and Communication skills in English were offered by Professionals from Industries and Volunteers from LTI.
Achievements & Awards:
A group of poor youth from remote hamlets of Palghar district were reached and trained successfully in MSCIT and KLiC courses with the help of Ninaad Foundation of Kamani Foods.
Under another project supported by LTI, a new computer class room was set up at NMMC's school at Mahape where poor children from nearby villages get educated. Promotion digital literacy among these children resulted in augmentation of attendance and admission.
As preaching the preachers is more effective in spreading the message, teachers from various nearby schools were taught the use of computers and web in teaching and monitoring the progress of students.
Similarly, MKCL's course on "internet for effective teaching" modified to suit the needs of the teachers is also imparted which adds the number of indirect beneficiaries of the facilities.
The candidates were assisted in preparation of CV, prepared to face interviews through mock interviews. Thus a few hundred were empowered through meaningful employment.
Vatsalya Trust also conducts free online practice exams to SSC students and practice scholarship exams to younger ones offered by MKCL. Such facilities are available for the rich in elite schools and are denied for the others. We offer these benefits to underprivileged students of nearby schools without any fees.
Future Plans
Cyber security is becoming an essential part of every gamut of our lives covering all systems upto the national security. During 20-21, our focus is on shifting to new courses on cyber security along with Pristine info solutions. The course will be available to poor beneficiaries at an affordable cost. Thus we not only strengthen our security, but also take it to the poor who cant afford the training.
New KLic courses in IoT and programming will be added.
Persons in Tribal areas are not able to get timely medical assistance . At present, we already conducting a course on patient assistance programme for poor girls and enable them to get jobs in hospitals. In this programme, we train poor girls in patient care and get them trained in hospitals. We wish to extend this programme to places close to Palghar and Khopoli along with basic use of diagnostic tools and transferring emergency medical data to a group doctor who will advise on first level treatment. A multi disciplinary training including digital literacy will help tribal population.
Under education programme, we will try to extend our reach to two schools in periphery of Navi Mumbai and Thane districts and help them establish smart class rooms. We hope to tie up with other NGOs to find trainers. School Teachers will be trained in using computers and open source tools net to enhance their teaching.
Our efforts in empowerment through special courses in cyber security, IoT, programming and Telemedicine will be scaled by reaching out. We will open our infrastructure to students to attend free online courses in Python till such a time we get volunteers to teach. Python is becoming an added qualification in cyber security and many other domains.
To know more please visit our pages of
Digital Literacy Outreach Centres
Kanjurmarg - Owned
Sanpada - Owned
Kurla - Owned
Rajapur - Amal Vidya Skill Devl. Centre-Kondye
Pali - Ballal Vinayak Madhyamik Prashala
Alibag - Owned
Bhayander - Keshavsrishti Krushi Tantra Vidyalay
Ulhasnagar - Global Rights Foundation
Ratnagiri - Bal Sudhar Gruh
Rahata - Shirdi - Shri Naresh Raut Foundation
Latur - Jankalyan Niwas Vidyalay
Dapoli - Lokmanya Public Charitable Trust- Chikhalgaon
Pandharpur - Rajanandini Madhyamik Vidyalay