Skill Development to Self reliance
Drive with Pride (DWP)
Women have been working shoulder to shoulder with men in a progressive society like India. Women are also entering in unchartered professions such as driving/security guards etc. to earn their living.
Driving is one such profession which requires boldness, adventurous attitude and the right frame of mind but it is still not a widely accepted profession for women in India due to social and cultural reasons. Hence, the main struggle is changing the psyche of people which is a really long-drawn battle.
Introduction and Project Features :
Driving skills offer ample opportunities to underprivileged girls/ youth. Hence, in 2016-17, Vatsalya Trust Started 'Drive with Pride' Course to impart driving skill to unemployed youth. However, the road to employment and successful entrepreneurship is not easy. Passion to become profession requires the right strategy, skills and precise approach.
Project features :
Driving skill in Two-wheeler/ Three Wheeler / Four wheeler training
Age Limit: 18 – 45 years
Educational Qualification: 8th Pass.
Course Duration: 1-2 months
Registration/ Course Fee : Rs. 1000/-
Permanent driving license/ badge (for three-wheelers) is given after successful completion of Training
Job opportunities for all suitable candidates.
About 150 candidates trained so far in two/ three/ four wheeler driving.
Skill Imparted in 'DWP'
Digital Skills
Digital enablement (introduction)
Computer Skills Basic/office tools
Mobile application usage, SmartPhone operation
GPS, Digital Maps, Mobile billing
Driving Skills
Driving school (learner course)
Driving school (Advanced course)
Driving school field run
Soft Skills
English language training
(basic / conversational/ business communication)
Parallel workshop on soft skills
Parallel workshop on first aid
Customer Services – attitude development
Professional Etiquettes
Personality development
Challenges faced :

Hazards and risks associated with the driving profession can be only dealt appropriately with the help of digital technology and training.
Next stage of struggle came when those beneficiaries who successfully completed their digital learning and driving course could not get employed as amount of deposit for hiring vehicle was unaffordable to many women/ youth. Also seed capital required for maintenance and repair was not readily available.
Over and above, quality of assets, repayment schedules and hours of work did not find favour with many beneficiaries especially women. Financial stakes involved were also very high which caused lack of interest for the driving profession.
It was realized that right blend of skills with technology, attitude and approach is required to fulfil the project/ dream.
Opportunities Ahead:
On completion of training, multiple job opportunities with Food Aggregators' and big retail hypermarkets.
Time flexibility / higher earning potential are some of the key advantages of driving profession.
Higher confidence level after training and helps to develop 'Yes we can' attitude.
Employed women will create Interest in other women to go through this program.
There is an increased demand for trained women chauffeur in India
Many radio taxis like UBER, OLA are recruiting women chauffeurs.
Transport vendors of Corporates and schools are willing to recruit participants.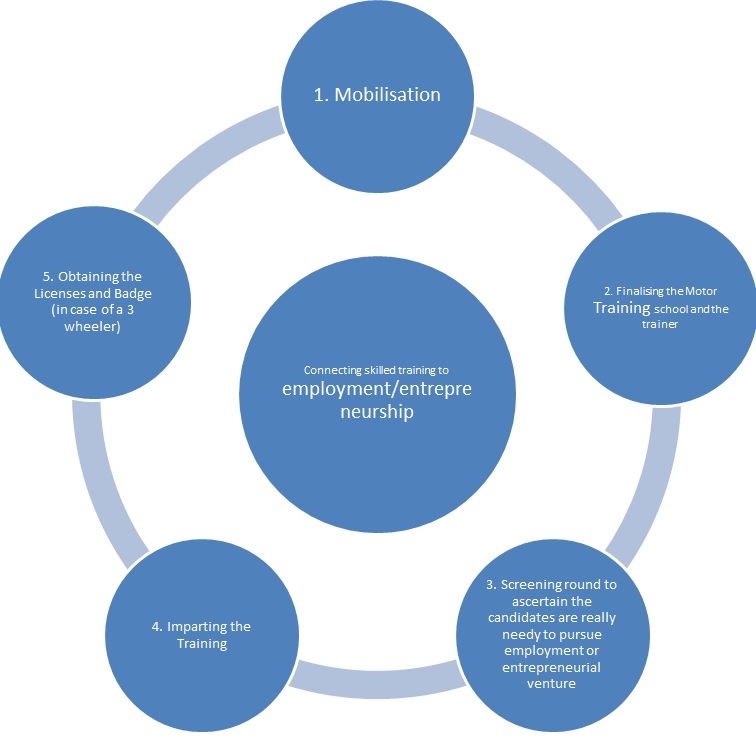 The heart of the Drive with Pride program, as depicted in the figure, is to connect the skilled training to 'meaningful employment' or any 'entrepreneurial venture' for the interested candidate. The process starts with community mobilization activities in potential areas such as poor economic zones within a radius of 8-10 km from the centre (VTM).
It should be noted that the process runs on a continuous rolling basis. Candidates are carefully identified after asking targeted questions and are further called to the office for a screening round of interview to ascertain whether the candidates are really needy and are looking for a job or want to start an entrepreneurial venture.
Concurrently, a motor training school in the vicinity is identified and finalized by receiving a quotation from at least 3 schools. Priority is given to the lowest quotation and the one which can deliver the work in terms of time and quality. Further, training for either two-wheeler or three-wheeler is imparted at a nearby ground of Vatsalya Trust Kanjurmarg office.
The training continues for 15 days for 30 minutes each. A suitable date is taken for applying for learning license at the RTO Wadala office by the trainer. For that purpose theoretical training is also conducted by the trainer. After completing the practical training an appropriate test-date is selected at RTO Wadala office for the permanent license.
When a candidate successfully clears the test he/she gets the permanent license through the post at his/her address. Furthermore, for procuring a Badge for an Auto-rickshaw, documents such as Aadhar Card, 15 years residential proof, Electricity Bill, PAN Card, School Leaving Certificate and Passport size photographs are submitted preferably through the same agent of the Motor Training school.
A clearance from the Local Police station and the CP office is required to go the next stage. After getting the Police Clearance Certificate a final verification is done at RTO Wadala. After the final clearance, the Badge is received on the address of the candidate.
It is generally encouraged that the candidates apply their training and licenses for the purpose of employment or any suitable entrepreneurship. Not only this skill helps them to be self-reliant, but it also increases their confidence which is very necessary to increase their self-esteem thus leading to higher productivity in their lives and creates contented individuals for the society at large.