Vanaprasthashram – Home for Senior Citizens
Vanaprasthashram – Home for Senior Citizens
The rapidly changing society has brought forward a new situation, i.e. the problem of lonely elders. Keeping true to the meaning of its name, Vatsalya has started an old age home at Sanpada to offer care & love born out of gratitude to these senior citizens.
It was in June 1999 that the three storeyed building of 'Vatsalya' came-up in Navi-Mumbai at Sanpada. There is an Elder's Home on the first floor of the building and Balikashram on the 2nd floor.
Highlights :
· Vatsalya provides congenial care to about 20 elders in Vanaprasthashram and it accommodates the elders based on their physical ability and emotional needs.
· Project provides the moral / physical support to elderly when they are left alone or neglected by their family members.
· The needs of the inmates like stay, food, medical treatment and entertainment are being looked after by the trust.
· A few of them pay highly subsidized amount for the services, while the needy are housed free.
· Counseling, comfort and emotional support are provided with utmost care and empathy.
· Trust ensures the cleanliness and adequate hygiene in old age home.
Needless to quote that more than the physical needs, it is very essential to provide emotional support to the elders. Hence, every care is taken by the old age home to give patient hearing to the issues of elders. The home also invites volunteers to interact with elders and share their experiences.
Facilities at Old Age Home
· Medical Check-ups: The health condition of all inmates is monitored periodically by a registered Medical Practitioner who also attends to emergencies. First Aid box and other medical equipment like Digital BP meter and one touch blood sugar monitor are made available to check the BP and sugar level as and when required.
· Recreation: A TV has been provided in common hall for entertainment and news. Birthdays of residents, festivals, music & signing programmes are regularly organized.
· Therapy and Counseling: Trust provides geriatric care to inmates and non-resident senior citizens through its in-house Rehabilitation Centre(RC). Interns from 'Terana Medical college' regularly provide physiotherapy. Moreover, interns from 'Tata Institute of Social Sciences' get involved in counseling for Seniors to avoid trauma of loneliness/ loss of near and dear. Pranik Healing and Yoga training is also provided by Professional trainers.
· Comfort: The accommodation is on twin sharing with bed, Writing table/ Chair and attached toilet.
· Last Journey: In case of demise of the inmate, the family members are informed quickly and sometimes trust arranges the Funeral rites of aged person if their near & dear are not available.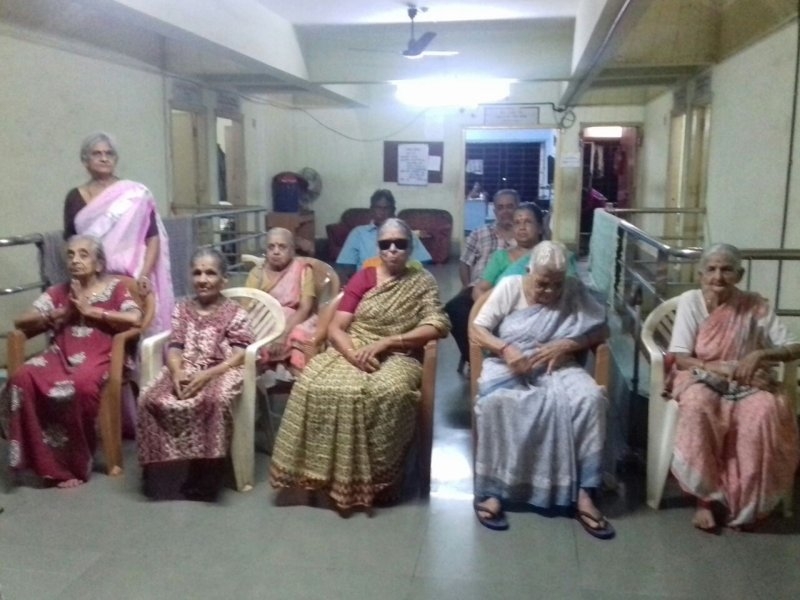 Future Expansion Plan: The Trust is considering enhancing the old age home capacity to 50 at its new facility which is expected to come up at Badlapur by 2021.